■BLACK PUMAS | ブラック・ピューマズ、FUJI ROCK FESTIVAL '22(フジロックフェスティバル '22)、出演決定。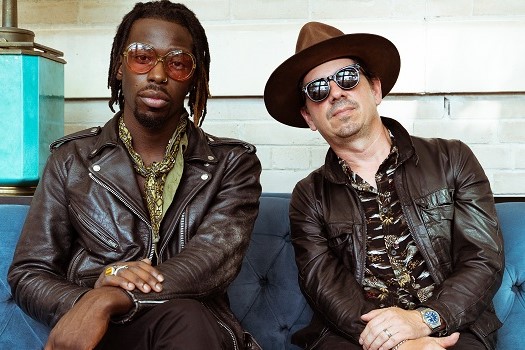 Black Pumas、FUJI ROCK FESTIVAL '22(フジロックフェスティバル '22)、出演決定。スタジオ・ライヴ盤『CAPITOL CUTS』、第64回グラミー賞2部門(Best Rock Performance、Best Rock Album)にノミネート中。デビュー・アルバム『Black Pumas (Deluxe Edition)』、発売中。
What an incredible honor to be nominated by the @RecordingAcad for Best Rock Album and Best Rock Performance for our Capitol Cuts Album! pic.twitter.com/E8HjqoCP4J

— Black Pumas (@BlackPumasMusic) November 23, 2021
12. Best Rock Performance
For new vocal or instrumental solo, duo/group or collaborative rock recordings.
Shot In The Dark
AC/DC
Know You Better (Live From Capitol Studio A)
Black Pumas
Nothing Compares 2 U
Chris Cornell
Ohms
Deftones
Making A Fire
Foo Fighters
15. Best Rock Album
For albums containing at least 51% playing time of new rock, hard rock or metal recordings.
Power Up
AC/DC
Capitol Cuts - Live From Studio A
Black Pumas
No One Sings Like You Anymore Vol. 1
Chris Cornell
Medicine At Midnight
Foo Fighters
McCartney III
Paul McCartney
>>>
https://www.grammy.com/grammys/news/2022-grammys-complete-winners-nominees-nominations-list
---
NOW ON SALE
伝説のキャピトル・スタジオで収録された8曲入りスタジオ・ライヴ盤。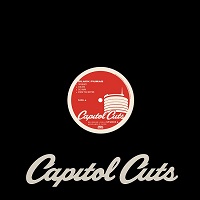 ■アーティスト:BLACK PUMAS
■タイトル:CAPITOL CUTS
■品番:ATO0561[LP/輸入盤]
■定価:オープンプライス
■発売元:ビッグ・ナッシング / ウルトラ・ヴァイヴ
■収録曲目:
(Side A)
1. Colors
2. Fire
3. Black Moon
4. Stay Gold
(Side B)
5. I'm Ready
6. Old Man
7. Red Rover
8. Know You Better
全て生でオーヴァーダブは一切なし。完全にライヴ・レコーディングされた『Capitol Cuts』はBlack Pumasの強力な瞬間を捉えている。長期間予定されていたツアーがキャンセルされた後の2020年秋、Black Pumasは伝説のCapitol Studiosへ向かい、8曲をプレイした。当LPは7分に及ぶ「Colors」からスタートする。数週間後、この曲はグラミー賞のRecord Of The Yearにノミネートされた。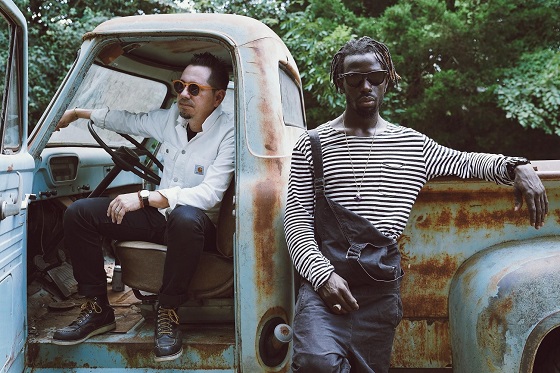 2020.10.14 ON SALE

★第62回グラミー賞「ベスト・ニュー・アーテイスト」、ノミネート
★シングル「Colors」、6000万ストリーム
★シングル「Colors」、Galaxy S20|S20+|S20 UltraのCMに使用

グラミー・ウィナー、エイドリアン・ケサダと新人ヴォーカリスト、エリック・バートンによるサイケデリック・ソウル・ユニット、ブラック・ピューマズ。ボーナス・トラック11曲を追加したデビュー・アルバム『ブラック・ピューマズ』のデラックス・エディションがリリース。【2CD】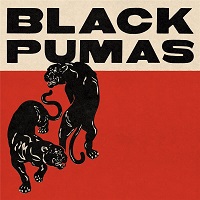 ■アーティスト:BLACK PUMAS(ブラック・ピューマズ)
■タイトル:BLACK PUMAS (DELUXE EDITION)(ブラック・ピューマズ+11(デラックス・エディション))
■品番:ATO0534CDJ
■定価:¥2,500+税[2CD]
■その他:解説付
■発売元:ビッグ・ナッシング / ウルトラ・ヴァイヴ
■収録曲目:
(DISC 1)
1. Black Moon Rising
2. Colors
3. Know You Better
4. Fire
5. Oct 33
6. Stay Gold
7. Old Man
8. Confines
9. Touch The Sky
10. Sweet Conversation
(DISC 2)
1. Fast Car (Tracy Chapman Cover)
2. I'm Ready
3. Red Rover
4. Black Cat
5. Politicians In My Eyes (Death Cover)
6. Colors (Live in Studio)
7. Oct 33 (Live in Studio)
8. Confines (Live in Studio)
9. Know You Better (Live at C-Boys)
10. Eleanor Rigby (The Beatles Cover)
11. Ain't No Love In The Heart Of The City (Bobby "Blue" Bland Cover)

Black Pumas - Colors (Official Music Video)


Galaxy S20|S20+|S20 Ultra:かけがえのない1枚をGalaxyと。


Black Pumas - Confines (Official Live Session With String Quartet)


Black Pumas - Oct 33 (Official Live Session With String Quartet)


●グラミー・ウィナーのギタリスト/プロデューサー、Adrian Quesada(Grupo Fantasma、Brownout、2018's Look At My Soul)と27才の新人ヴォーカリスト、Eric Burtonによるユニット、Black Pumasは、2019年6月、ATO Recordsよりセルフ・タイトルのデビュー・アルバム『Black Pumas』をリリースしたが、同アルバムのデラックス・エディションが2020年10月にリリースされる。新しいアートワークとなったデラックス・エディションには、オリジナルのアルバムに加え、3曲の未発表曲、3曲のスタジオ・ライヴ・ヴァージョン(「Colors」「Oct 33」「Confines」)、オースティンのクラブ、C-Boys Heart & Soul(バンドが最初に名を馳せたオースティンのクラブ)でレコーディングされた「Know You Better」のライヴ・ヴァージョン、カヴァー4曲(The Beatles「Eleanor Rigby」、Death「Politicians in My Eyes」、Bobby "Blue" Bland「Ain't No Love in the Heart of the City」、Tracy Chapman「Fast Car」)の計11曲が追加収録される。
●2017年、自身のプロジェクトの合間にAdrian Quesadaは自分のオースティンのスタジオで曲を書き始め、友人とレコーディングを開始。バッキング・トラックを完成させた後、オーディションで27才の新人ヴォーカリスト、Eric Burtonを加え、Black Pumasはスタートした。Ghostface Killahのインストゥルメンタル、モータウン・ソウル、ハイウェイ・フォーク・ロック等にインスパイア受けたサウンドに、教会、ミュージカル・シアター、バスキング等で磨いたBurtonのダークで耳に残るヴォーカルを加えた彼らのサイケデリック・ソウルは、まずは地元のテキサスで大きな評価を獲得。2019年のAustin Music Awardsでベスト・ニュー・バンドを獲得し、楽曲「Black Moon Rising」は同アワードのソング・オブ・ザ・イヤーに選ばれた。その後、彼らの名は全米に広まり、「Wu-Tang Clan meets James Brown」(KCRW)、「the breakout band of 2019」(NPR)とメディアから賞賛され、Rolling Stoneは「オースティンでみた30のベスト・バンドの一つ」と2019年のSXSWでの彼らのパフォーマンスを絶賛した。2019年6月、デュオはデビュー・アルバム『Black Pumas』をリリース。アルバムはメディアで絶賛され、シングル「Colors」は大ヒットを記録。結果、デュオは第62回グラミー賞「ベスト・ニュー・アーテイスト」にノミネートされるに至った。また彼らのライヴも「エレクトリファイング(感情または興奮の高まりを引き起こす)」とガーディアンに評される等、高い評価を博し、公演は各地でソールド・アウトを記録。FUJI ROCK FESTIVAL'20への出演も発表されていたが、COVID-19の為、フェスティヴァルは延期となった。
●解説付

「次に何が来るのだろう、と思わせるデビュー」(The Guardian)
「不断のビートとシンガー、エリックバートンのカリスマチックなエナジーを決して見逃すな」(Rolling Stone)
「レトロなソウルよりもはるかに広大。まるでザ・ブラック・キーズがマーヴィン・ゲイとプレイしているようだ」(NPR Music)
「劇的な状況に対するデュオの才能は刺激的で、実際、彼らは映画のように見える」(Pitchfork)
「ウータン・クラン・ミーツ・ジェームス・ブラウン」(KCRW)
「驚異的。ブラック・ピューマズは今世界で最も必要なもの」(MOJO)
「オースティンのお気にいりは高く評価される必要がある」(Chicago Tribune)
「2019年のブレイクアウト・バンド」(NPR Here & Now)
「説得力のある新鮮な力」(Hypebeast)
「感動的なレトロ・ソウル」(FADER)
「ソウルフル、サイケデリック、アメージング」(NPR Alt.Latino)
「フォーク、ヒップホップ、サイケデリックから新鮮なインスピレーションを引き出すソウル・ミュージック」(Pigeons & Planes)
「ア・ソウル・エクスプロージョン」(UNCUT)
「物思わしげでシネマティックなソウル」(Austin Chronicle)
「今、街で最もホットなパーティー」(Austin-American Statesman)




スポンサーサイト