■HATCHIE | ハッチーのニュー・アルバム『GIVING THE WORLD AWAY(ギヴィング・ザ・ワールド・アウェイ)』、本日、4/22発売。アルバムより「The Rhythm」のビデオを公開。
Hatchie - The Rhythm (Official Video)
"Disguises its tenderness with confident hooks and walls of distorted guitars."
-The FADER
"Sparkling pop music that goes down the gullet like a fresh-cracked can of fizzy pink lemonade."
-Nylon
"Combines early-'90s synthpop and shoegaze, somewhere between Electronic and Slowdive."
-FLOOD
"Reverberates with an undeniable sense of hope and forward movement that resembles progress."
-UPROXX
"A shimmery dream pop confection"
-Brooklyn Vegan



2022.4.22 ON SALE[世界同時発売]

オーストラリはブリスベン出身、ハリエット・ピルビームによるドリーム・ポップ/シューゲイザー・プロジェクト、ハッチー。3年振りとなるニュー・アルバム『ギヴィング・ザ・ワールド・アウェイ』をシークレットリー・カナディアンよりリリース。
●プロデュース:ジョージ・エルブレヒト(ジャパニーズ・ブレックファスト、スカイ・フェレイラ、ワイルド・ナッシング)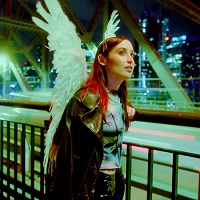 ■アーティスト:HATCHIE(ハッチー)
■タイトル:GIVING THE WORLD AWAY(ギヴィング・ザ・ワールド・アウェイ)
■品番:SC444JCD [CD/国内流通仕様]
■定価:¥2,500+税
■その他:世界同時発売、解説付、初回盤のみボーナス・トラック「August (Hatchie's Version)」「Back Into Your Arms (Rinse feat. Hatchie)」「Slowsand (Quicksand Remix)」のダウンロード・カード封入
■発売元:ビッグ・ナッシング/ウルトラ・ヴァイヴ
■収録曲目:
1. Lights On
2. This Enchanted
3. Twin
4. Take My Hand
5. The Rhythm
6. Quicksand
7. Thinking Of
8. Giving The World Away
9. The Key
10. Don't Leave Me In The Rain
11. Sunday Song
12. Til We Run Out Of Air
※初回盤のみボーナス・トラック「August (Hatchie's Version)」「Back Into Your Arms (Rinse feat. Hatchie)」「Slowsand (Quicksand Remix)」のダウンロード・カード封入

Hatchie - This Enchanted (Official Video)


Hatchie - Quicksand (Official Video)


●Hatchieのセカンド・アルバムとなる『Giving The World Away』は、プロジェクトの指揮をとるソングライター、Harriette Pilbeamの真の姿を紹介するものだ。まばゆいばかりのドリーム・ポップとシューゲイザーが絡み合う彼女のサウンドは、完全に完成されているが、当作で彼女は自身の核心をレコードに抽出することに成功した。「恋をしているとか、失恋しているとか、そうした曲を書くだけではなく、もっと大きな絵がある。このアルバムは私にとって"本当の始まり"のようなもので、3枚目のリリースになるけど、ゼロから再始動しているような感じなの」とPilbeamは語る。Pilbeamが探求する大きな絵とは、長年の不安に向き合い、自信と自尊心を自覚し、自分自身の物語と居場所をコントロールすることである。その為、アルバムでは、特に歌詞において高いハードルが課された。制作を開始した際、彼女は奇妙な精神状態に陥っていた。EP『Sugar & Spice』とそれに続くデビュー・アルバム『Keepsake』がともに絶賛され、Hatchieがインターナショナルなスポットライトを浴びた時、彼女は自分自身に自信をなくすと同時に、前に進み続けなければならないという強い気持ちも感じていた。そうした中、プロとしても個人としても、Pilbeamは自分自身を表現したり感謝したりすることもできなくなっていたのだ。グラミー賞にもノミネートされ、Sky Ferreira、Japanese Breakfast、Wild Nothingとの仕事でも知られるJorge Elbrechtがプロデュースを手掛けたした『Giving The World Away』は、Hatchie史上、最も力強く、壮大な作品となった。長年のコラボレーターであるJoe Agiusを起用し、初期の作品に見られるきらめくシューゲイズとポップなセンスを取り入れながら、ボリュームのノブは10倍に上げられている。Beach Houseのドラマー、James Baroneがパーカッションで参加。シンセを駆使し、90年代のトリップホップやアシッド・ハウスの影響を受けた構造的で華やかなサウンドへと仕上がっている。『Giving The World Away』は、自信と再生のアルバムだ。そして、若者が自分自身をはっきりと見つめることができるようになる特異な時期についての作品だ。ここにはPilbeamの明確な姿が存在し、自身の弱さを受け入れ、自分に賭けることで生まれるパワーと勇気の遺物である。アルバムは2022年4月22日、Secretly Canadianよりリリースされる。
●Hatchieはインディ・ロック・バンド、Babaganouj等での活動で知られるオーストラリはブリスベン出身、Harriette Pilbeamによるソロ・プロジェクトだ。2018年、EP『Sugar & Spice』をリリース。収録曲「Sleep」はPitchforkのベスト・ニュー・トラックに選ばれ、Stereogumではアーティスト・トゥ・ウォッチに選出。FADERもEPを絶賛した。2019年にはデビュー・アルバム『Keepsake』をリリース。Dork(5/5)、DIY(4/5)、The Line of Best Fit(8.5/10)、PopMatters(9/10)、Uncut(4/5)等、アルバムは各メディアから高評価を獲得。この間、Japanese Breakfast、Girlpool、Alvvays、Death Cab for Cutie、Beach House、Men I Trust、Kylie Minogue等とプレイ。アメリカとイギリスではヘッドラインのショーも行い、Pitchfork Paris、The Great Escape、Primaveraといったフェスティヴァルにも出演した。




スポンサーサイト