■Hot Snakes | ホット・スネイクス、14年ぶりとなるニュー・アルバム『ジェリコ・サイレンズ』、全曲ストリーミング。Drowned in Sound (9/10)、The Guardian (4/5) 、Q (4/5)、Kerrang! (4/5)、Exclaim! (9/10)、The Skinny(5/5)、MOJO(4/5)、DIY (4/5)・・・。アルバム好評発売中。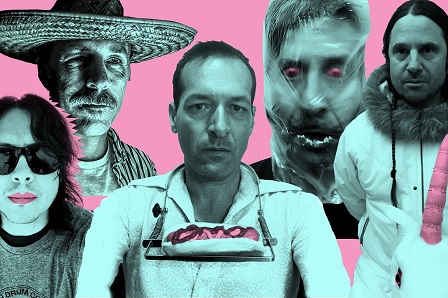 Hot Snakes - Jericho Sirens [FULL ALBUM STREAM]
"On its three previous records, the group was willing to toy with sustain and release, tension and construction — look at songs like "Suicide Invoice" or "Lovebirds." Those days are gone. Jericho Sirens is a punched-in wall. Between the doom of the opening bars to "I Need a Doctor" and the homage the record closes on ("Death of a Sportsman" crash-ends with a direct lift from Suicide's epochal, nihilistic "Ghost Rider" and that song's four-note spine) lives the sound of not being able to itch your pox. Ever." [Jericho Sirens, First Listen] - NPR Music
"This is yet another example of Hot Snakes at the top of their game, except this time they gave 14 years in exile for other, lesser bands to catch up with them only to reclaim the throne with ease." [Jericho Sirens, 9/10] - Drowned in Sound
"The very definition of kickass" [Jericho Sirens, 4/5] - The Guardian
"Jericho Sirens sounds more unstable and aggressive…The palpable anxiety of "I Need A Doctor" opens the album, segueing into the dissonant dread of "Candid Cameras" and the ferocious 78 seconds of "Why Don't It Sink In?" "Death Camp Fantasy" is a vintage Hot Snakes pounder, and Froberg howls like Brian Johnson in "Psychoactive." It all works. Whenever Hot Snakes decide to get together, they will always be welcome." [Jericho Sirens, A-] - AV Club
"This is a winner from start to finish." [Jericho Sirens, 4/5] - Q
"It's got all the traits that make Hot Snakes the unique band they always were: the fury of hardcore, the dissonant riffs of noise rock, the fuzz-drenched party of garage rock. They've got no fat on this thing — it's over and done with in 30 minutes and reply value is very high — and the songs aren't just rippers but catchy too." [Jericho Sirens, "5 Notable Releases This Week"] - Brooklyn Vegan
"Hot Snakes are as dry, dented and slightly demented as ever." [Jericho Sirens, 8/10, "Album of the Week"] - The Line of Best Fit
"At its core, Jericho Sirens bears all of the elements that made up Hot Snakes' excellent first trio of albums: a sharp clash of guitars, pummeling punk-rock rhythms, and Froberg's frantic, strained bark. Yet there's even more tension and agitation than usual, even for a band whose discography is founded on that very agitation." [Jericho Sirens, Album of the Day] - Bandcamp
"Their lengthy hiatus has clearly not dulled Hot Snakes' razor-sharp edge, one bit, making Jericho Sirens a very welcome return." [Jericho Sirens, 4/5] - Kerrang!
"It's a suplex to your ears, a fire in your spirit, a get-up-and-go, absolutely run-wild affair. It's what Hot Snakes has always been, and always will be: masters of primal, visceral aesthetics." [Jericho Sirens, Album of the Week] - Treble
"Comebacks are complicated, for bands and fans too, but this is one for the ages. Hot Snakes have returned, reminding those of us who've paid attention that they are definitively one of the greatest rock bands we've ever known." [9/10] - Exclaim!
"Jericho Sirens is an incredible turn, and proof to the other half-hearted post-hardcore comebacks of the last years (looking at you At the Drive-In, Refused and more) that it is possible to still be high-quality and relevant. In fact, in places Hot Snakes' fourth album is so good, it even puts newer bands who have come up in the meantime to shame." [Jericho Sirens, 5/5] - The Skinny
"A band that holds a timeless appeal to anyone who grew up on hardcore and garage rock, a promise of good times fused to a pummeling sense of aggression and resolve." - Chicago Tribune
"This band will not change your life, probably. But it will make your life both more terrifying and way more bearable. It's an honor, genuinely, to be pummelled and trampled by some of the best." [Jericho Sirens] - The Ringer
"Jericho Sirens, the fourth Hot Snakes album, is a cathartic pileup of chunky guitar slashes and feverish yelps. It's dense and physical and nasty and fun as hell. We've already posted the excellently-titled early tracks "Six Wave Hold-Down" and "Death Camp Fantasy," and now the whole album is out there online, ready for your solo desk-chair moshing. (You do that too, right? It's not just me?)." [Jericho Sirens]- Stereogum
"Hot Snakes' caustic, erudite commentary is more welcome than ever" [Jericho Sirens, 4/5] - MOJO
"Hot Snakes throw one hell of a rock and roll party; let's hope the invites to the next one don't take another fourteen years to arrive" [Jericho Sirens, 4/5] - DIY
"It's exactly what you want out of a Hot Snakes jam, with a riff that snarls and swaggers like a hot rod, its wild hair of a melody built into the stylish chrome." ["Six Wave Hold-Down"] - NPR Music
"And after teasing a new song, they've now shared the slashing, propulsive "Six Wave Hold-Down," a song that's absolutely worthy of their old albums." ["Six Wave Hold-Down"] - Stereogum
"Charges forward with reckless abandon…" ["Six Wave Hold-Down"] - Consequence of Sound
"A ripper which has Hot Snakes sounding as inspired as ever…" ["Six Wave Hold-Down"] - Brooklyn Vegan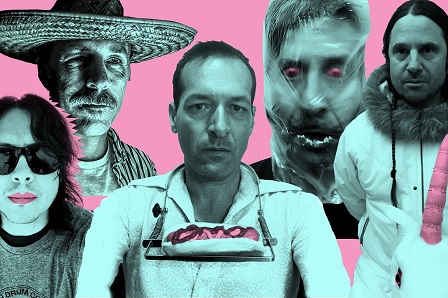 2018.3.16 ON SALE[世界同時発売]

ロケット・フロム・ザ・クリプトのジョン"スピード"レイスを中心に結成されたホット・スネイクスの、実に14年ぶりとなるニュー・アルバムが完成。過去のメンバーが揃い制作された通算4枚目のアルバム『ジェリコ・サイレンズ』、サブ・ポップよりリリース。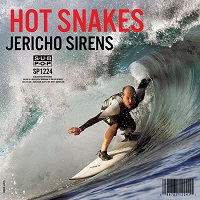 ■アーティスト:HOT SNAKES(ホット・スネイクス)
■タイトル:JERICHO SIRENS(ジェリコ・サイレンズ)
■品番:OTCD-6400
■定価:¥2,300+税
■その他:解説付、世界同時発売
■発売元:ビッグ・ナッシング / ウルトラ・ヴァイヴ
■収録曲目:
1. I Need a Doctor
2. Candid Cameras
3. Why Don't It Sink In?
4. Six Wave Hold-Down
5. Jericho Sirens
6. Death Camp Fantasy
7. Having Another?
8. Death Doula
9. Psychoactive
10. Death of a Sportsman

Hot Snakes - Six Wave Hold-Down


●14年振りとなるHot Snakesのニュー・アルバム『Jericho Sirens』が遂にリリースされる。Hot SnakesはRocket from the Cryptの休止期間の1999年にJohn Reisのサイド・プロジェクトとしてスタート。2000年にデビュー・アルバム『Automatic Midnight』をリリースし、メンバーをJohn Reis(G, Backing Vocals)、Rick Frober(Lead Vocals, G)、Gar Wood(B)、Jason Kourkounis(Dr)の4人に固定。2002年にはセカンド・アルバム『Suicide Invoice』をリリース。2004年にはドラマーをMario Rubalcabaに変更し、サード・アルバム『Audit in Progress』をリリースするも、2005年には解散した伝説のバンドだ。2011年に再結成を果たした彼らは、All Tomorrow's PartiesやFun Fun Fun Festといったフェスティヴァルに出演。ツアーもおこない、新しい作品の制作を画策。こうして2018年3月、ニュー・アルバム『Jericho Sirens』がSub Popよりリリースされることとなった。
●血管が浮き上がるような「Why Don't It Sink In?」や強烈なダウンストロークの「Having Another?」等、『Jericho Sirens』にはHot Snakesの最もエクストリームなサウンドが収録されている。一方、2017年の大晦日にフィラデルフィアでおこなわれた当アルバムの最初のセッションで書かれた「Six Wave Hold-Down」等は、The Wipers、Dead Moon、Suicideといったバンドが長年にわたり影響を受けた先達を感じさせるトラックだ。また「Jericho Sirens」や「Psychoactive」のコーラスは、AC/DCやOzzy Osbourneといったクラシック・ロックの巨匠を思い起こさせる。「俺はいかれてるよ。それは確かさ」とRick Frobergは認めるが、John ReisにとってRick Frobergとの創造的なパートナーシップを再活性化することは、最も有益なことの一つであった。「俺たちの視点やテイストは似てるんだ。俺たちは本当に一緒によく働くんだよ。これ以上何を言う必要があるんだ?Rickはヴォーカリストとしてもリリシストとしても、このアルバムで今までの自分を超えたんだよ」とJohn Reisは語る。『Jericho Sirens』はここ1年ほどでフィラデルフィアとサンディエゴでレコーディングされた。ベースのGar Woodはもちろん、過去にバンドに所属した二人のドラマー、Jason KourkounisとMario Rubalcabaも参加している。
●世界同時発売、付帯物未定

【HOT SNAKES / ホット・スネイクス】
Hot Snakesは1999年にJohn Reisが自身のメイン・バンド、Rocket From The Cryptのオフの時に活動するサイド・プロジェックトとして始めたバンドだ。The Delta 72のドラマー、Jason Kourkounisと曲の断片をレコーディングした後、John Reisはヴォーカルのレコーディングの為にPitchforkやDrive Like Jehuで活動していたRick Frobergを呼び寄せ、Hot Snakesは始動した。Hot Snakesのサウンドはメンバーがそれぞれ所属していた以前のバンド、Pitchfork、Drive Like Jehu、Rocket From The Crypt、The Delta 72等との類似性はあるが、それらよりは、よりプライマルなものである。Rick FrobergとJohn ReisはThe Wipers、Suicide、Michael Yonkers Bandといったバンドにも影響を受けており、その為、時にHot Snakesのサウンドは「ハードコア・ガレージ・パンク」とも表現される。バンドの活動はDIYの精神のもと進められ、Rick Frobergが全てのアートワークを手掛け、John ReisのレーベルであるSwami Recordsより作品はリリースされた。2000年、バンドはデビュー・アルバム『Automatic Midnight』をリリース。その後、ベースのGar Woodが加入。ライヴをスタートさせ、本格的な活動が始まった。2002年にはセカンド・アルバム『Suicide Invoice』をリリース。エンジニアにBen Mooreを迎えてサンディエゴのDrag Racist Studiosでレコーディングされたこのアルバムは、後にピッチフォークのレヴューで8.8/10を獲得する等、大きな評価を得た。2004年にはサード・アルバム『Audit In Progress』をリリース。新しいドラマー、Mario Rubalcabaを迎え、再びBen MooreによってサンディエゴのBig Fish Recordingでレコーディングされたこのアルバムは、2005年のサンディエゴ・ミュージック・アワードで「ベスト・パンク・アルバム」を獲得した。一方、2005年の終わりまでにバンドは解散した。そして2011年、バンドは再結成し、ライヴも再開。2018年1月にはSub Popより過去3枚のアルバムが再リリースされた。




スポンサーサイト