■Moaning | ロサンジェルスをベースに活動するトリオ編成のポストパンク・バンド、モウニング。サブ・ポップより発売中のデビュー・アルバム『モウニング』より「Misheard」のビデオを公開。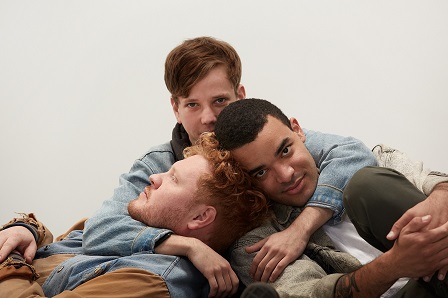 Moaning - Misheard [OFFICIAL VIDEO]
What people are saying about Moaning:
"It's a remarkably poised first effort: gauzy and twitchy; wary yet emotionally bare. It's one of the strongest local rock releases of the young year." -
Los Angeles Times

"A product of their hometown's DIY scene, this Los Angeles trio have spent the past couple of years creating moody guitar music that draws on shoegaze, slacker-rock and post-punk. They've already whetted appetites for their upcoming debut album with a series of driving, dirge-like, deadpan tunes." [Top 40 Newcomers of 2018"] -
The Guardian

"Thrilling post-punk that's as moody as their name suggests." -
NME
"Moaning is an undeniably powerful debut which sounds astonishingly mature and accomplished for a first effort."[****] -
All Music
"Moaning is a strikingly accomplished debut." -
PopMatters
"Dark and dreamy coalesce here, as retro romanticism meets mathy noise and shimmery shoegaze." [8/10] -
Exclaim!
"The band incorporate dark shoegaze and wall-of-noise rippers into their hazy palette, with some soaring, poppy numbers too." -
Brooklyn Vegan

"The band and their surroundings are fleshed out by producer Alex Newport (At The Drive-In, Melvins, etc), whose grayscale palette unifies together Moaning's sparse, jagged verses and swirling, anthemic choruses, creating the feel of an intimate basement show where the music practically consumes the room." -
LA Record
"The 10-track debut is a tight package of energetic angst filled with guitar swarms and brooding synth flourishes that complement the raw emotion in Solomon's lyrics." -
Buzzbands LA

"Solomon sings in a world-weary monotone. But his voice rushes through a weathered industrial filter that makes it sound like the air in his lungs is struggling to catch up with him, adding a layer of momentum to his post-punk stoicism. Behind him, bandmates Pascal Stevenson and Andrew MacKelvie keep time on bass and drums, respectively, their clipped tempos like a clock ticking down to the end of the affair. And then there's that delightfully out of place guitar solo. The way Solomon's fingers jitter across the frets betrays the dispassion in his voice. He sings like Ian Curtis, but he plays guitar like Billie Joe Armstrong wringing out notes in fits." ["Don't Go"] -
Pitchfork
"Don't Go" is uproarious and unrelenting, a tremendous wall of noise hitting you from t
he start, its biting rage continuing throughout. Vocals cloaked in fuzz meld into the sounds projected seamlessly, creating a thick atmosphere against repetitious plea of, "don't go."...The single evokes the feelings of desperately holding on, clamoring to keep it together even when everything has fallen apart. This band is everything." ["Don't Go"] -
The Grey Estates
"The song is about what really lies beneath, and like the truth, "Artificial" is distressing, nuanced, and ultimately cathartic." ["Artificial"] -
The Fader
"The song supports their band name in its moody tone — frontman Sean Solomon knowingly grouses punk platitudes like "nothing is fair" — met with anxious, shifting visuals that reference 120 Minutes, the old MTV alt-rock program that ran off-and-on from the late 80s until 2013." ["Artificial"] -
Stereogum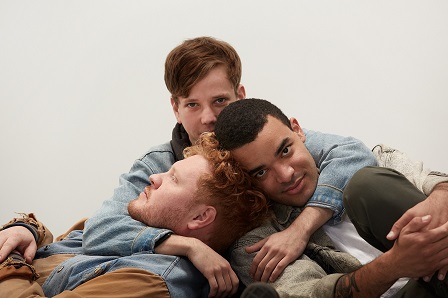 2018.3.7 ON SALE

ロサンジェルスをベースに活動するトリオ編成のポストパンク・バンド、モウニング。アレックス・ニューポート(アット・ザ・ドライヴイン、ブロック・パーティ、メルヴィンズ他)のレコーディングによるデビュー・アルバム『モウニング』、サブ・ポップよりリリース。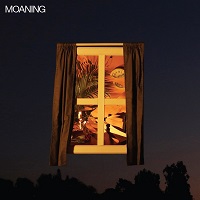 ■アーティスト:MOANING(モウニング)
■タイトル:MOANING(モウニング)
■品番:SP1216CDJ[国内流通仕様]※帯付で解説他は付きません。
■定価:¥2,200 +税
■発売元:ビッグ・ナッシング / ウルトラ・ヴァイヴ
■収録曲目:
1. Don't Go
2. Tired
3. Artificial
4. Close
5. Does This Work for You
6. The Same
7. For Now
8. Useless
9. Misheard
10. Somewhere in There

Moaning - Artificial [OFFICIAL VIDEO]


●LAをベースに活動するトリオ編成のバンド、Moaningのアルバムが完成。セルフタイトルとなるデビュー・アルバム『Moaning』、2018年3月、Sub Popよりリリース。
●MoaningはLAのDIYシーンで活動すSean Solomon(Vo/G)、Pascal Stevenson(Ba)、Andrew MacKelvie(Dr)のからなるポストパンク・バンドだ。10代の頃に既に知り合いであった三人は、各々、ロサンジェルスのミュージック・シーンで活動を始め、The SmellやPehrspaceといったDIYのライヴハウスを中心に活動をしていた。初めて互いにプレイした時からおよそ10年後に、Moaningをスタート。バンド自らが作った「The Same」のビデオがAlex Newpor(At The Drive-In、Bloc Party、Melvins他)の興味を引き、Alex Newporのレコーディングにより当デビュー・アルバム『Moaning』を完成させた。アルバムには「Don't Go」「Artificial」「The Same」他、全10曲が収録される。

【Moaning/モウニング】
 MoaningはLAのDIYシーンで活動すSean Solomon、Pascal Stevenson、Andrew MacKelvieからなるポストパンク・バンドだ。三人は昔からの知り合いで、初めて互いにプレイした時からおよそ10年後に、Moaningはスタートした。彼らのデビューアルバム『Moaning』は、愛と苦悩に関するメンバーの経験から生まれ、独特なダークで誠実なサウンドを作り出している。バンドの持つトーンは、アートが持つ無限の可能性が保証されない未来への恐怖と疑いで満たされており、彼らが生まれた時代の混乱を強調している。
 カリフォルニア州サンフェルナンド・バレー出身のSolomon、Stevenson、MacKelvieの三人は、10代の頃に出会い、ロサンジェルスの地元のミュージック・シーンを通して親密になっていった。三人はThe SmellやPehrspaceといったDIYの施設を、Moaning結成前からそれぞれ頻繁に使い始め、多くのショーをソールド・アウトしてきた。MoaningのコンセプトはSolomonがStevensonとMacKelvieに「Don't Go」の最初のデモを送り、直情的に書かれたその曲に音を重ねていく際に生まれた。MacKelvieのヘヴィーなドラムとStevensonのメロディックなベース、更にはシンセのパートを加えることにより、それぞれの個性が曲に取り込まれ、オリジナルのデモはより良い物へと昇華したのだ。バンドの持つ葛藤を抱えたサウンドを伝える為、個人的な心の痛みの複雑さを利用して、Moaningは喜びではなく痛みに焦点をあてる。「Moaning」という言葉の持つ曖昧さに敬意を表し、深い悲しみと悲痛な叫びの両方をカバーすることを望みながら、三人はバンド名をMoaningとしたのだ。バンドが作った「The Same」の初期宅録ヴァージョンのビデオはAlex Newportの興味を引いた。Alex Newportは過去にAt The Drive-In、Bloc Party、Melvins等を手掛けた経験豊かなエンジニア/プロデューサーである。Alex Newportと共に、バンドはレコーディングを始めた。スタジオの信頼たる設備を使ってアグレッシヴにライヴ・レコーディングされた曲は、Solomonの歌詞に力強さを与えた。アルバム収録曲の「Artificial」等はその好例である。
 New Order、Broadcast、Slowdiveといったバンドに影響を受けた彼らのサウンドは、感情的なものから破壊的なものまでをもカヴァーしている。バンドが持つ若々しいアティチュードはロス、ルーティーン、メンタル・ヘルスといったものと結びつき、彼らの世代の多くが今日直面している現状への不安を反映している。多くの若手バンドがソングライターやプレイヤーとしての地位築くのに何年も必要としている今、Moaningの三人は、各々の以前のプロジェクトでベースメント、バー、ボールルームで10年間演奏することにより、自らのサウンドやヴィジョンに対しての自身を深めた。彼らは洗練されたルックスをしてはいるが、自らへの恩恵の為に、自分たちのオーディエンスに個人的な逸話や感情を捧げてきたのだ。




スポンサーサイト